Have a Happy Thanksgiving! See you on Monday!
1.
2.
3.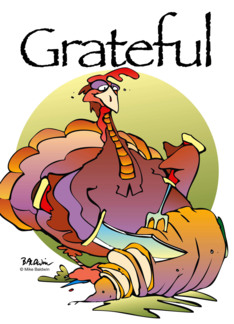 1. ArtPlay gifts
2. www.brianpaynestudio.com
3. Cornered Greeting Cards
Posted by

Kate Harper
at 11/25/2009
1 comments


Links to this post
Do you have an interesting card design? Want a lot of people to see it? Want design feedback? I'm always looking for new cards to post and review on this blog for educational purposes.
WHAT YOU GET:
Show your card to thousands of people!
This blog has over 30,000 visitors, followers and subscribers monthly. It is a great opportunity to promote your art. Readers include card publishers, editors, designers, sales reps and retail stores.

-Kate


HOW TO SUBMIT

• Send card by email to GCDBlog@gmail.com (1 card per email message).

• Send .jpg or .png

format
• I

deal r

esolution: minimum 72 dpi.
• Ideal size: Exact

l

y 600 pixels wide (it will fill the whole blog screen without

a slow download)



• Embed your contact info on the art

(see example below).
You can put your info on the design or below the design. Just make sure it is part of the jpg image.

• If your card has a white background, include a black border around the card (see example).
• If your card has inside text, you can add a second jpg file in your email, but please put a black border around card if background is white. Otherwise it will disappear into the background.
• Send holiday cards during the holiday season. For exampls: send Valentine cards in January and February and Christmas cards in November and December.

• Use email Subject Line: BLOG CARD SUBMISSION
For holiday cards use:

BLOG CARD SUBMISSION: CHRISTMAS

(or whatever holiday).
• Be prepared that I might comment on card designs for educational purposes. Just like a book review, I often say why I like something and may suggest ways to improve a design. I'm a reasonable person, so I won't post cards just to criticize them. My readers and artists often tell me they value my feedback because they learn tips on card design.
EXAMPLE
→
Include Contact Information
→

Make sure your contact info is easy to read if it is 3 inches wide.
Good News!
November 9, 2009.
The AIGA Design Leaders Confidence Index for the third quarter of 2009 continued a dramatic rebound from its low point of just a year ago. According to Richard Grefé, executive director of AIGA, "We've been listening closely to many designers working out of studios, and they appear to be very busy. Margins are tight and clients are very demanding in terms of scope and budget, but there has been business through what economists suggest was the trough of the recession.
AIGA anticipates that the real measure of the state of the design economy is likely to come in the first quarter of 2010, as designers experience the effects of corporate budgets that were determined during a weakened economy.
Article continued...
Joan Beiringer's
blog
on art licensing is an important resource to know about if you want to learn more about selling your art to companies for royalties. This could be to greeting card companies, or any company that buys art to use for designing products (shower curtains, napkins, pictures, frames, table settings, paper plates, magnets, coaters, etc...)
Joan has a wealth of information she has acquired over the years from her own research and by doing trade shows and talking to people in the industry. This information is hard to find, especially if you are starting out. Joan has taken the time and effort to put it all together which is a great help to artists.
Here are some resources on her blog that you should check out:
1.
Licensing Agents
This is a list of agents who represent artists and go to manufacturers to show your work. They normally take a percentage of your royalties, but they also know a lot of art buyers in the industry. Some artists work with agents and others represent themselves.
2.
How to do Mockups
Today it is important to show your work on an actual product, when approaching a company. Joan explains several ways and shows examples of how to do mockups so your art will look professional.
3.
How to Find Companies
Don't know what company would want your art? Research them and see what kind of art they already buy. It's a matter of doing your homework. Joan has a list of places to start.
4.
Art Licensing Trade Shows
Ready for the big time? Want to go to a professional show and display your work? Here's some shows that feature artists that do licensing.
5.
Forums
These are art licensing communities on the web where artists help each other learn the nuts and bolts of doing licensing.
6.
Teachers & Consultants
In the beginning, it is critical to take a class or at least meet with a consultant who can look at your art and give you an overview of what direction they think you might explore. It will save you a lot of time later on, and prevent you from spending hours working on something that just isn't the kind of thing manufacturers are looking for.
Posted by

Kate Harper
at 11/23/2009
0 comments


Links to this post